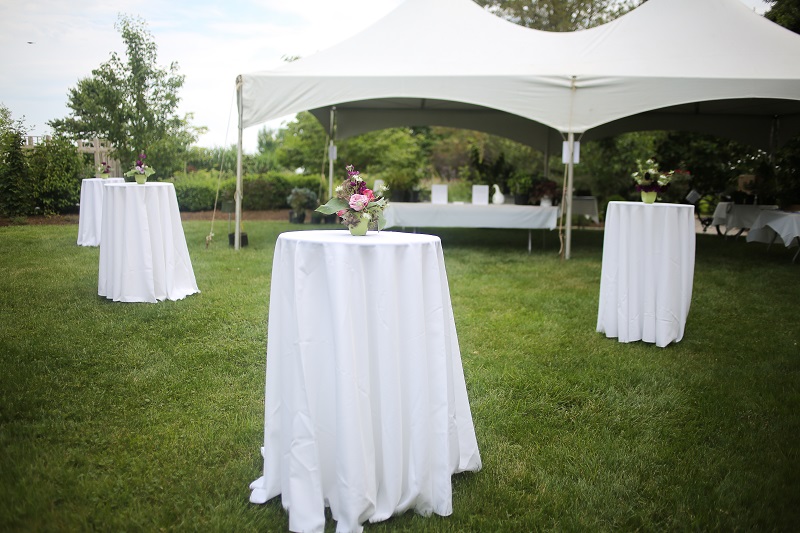 Alternative venues are on the rise nowadays, and one of the most popular alternative venues is the backyard. If you have been considering having a backyard wedding, you are in luck. Read on to learn how to throw a magical backyard wedding.
Tents

When you host a wedding in the backyard, you and your guests will be exposed to the elements. To prevent any wedding day weather mishaps, tents will be your best friend. Typically, people will opt for a tent only for the reception space; however, we recommend having one for the ceremony, too. Also, keep in mind that tents provide a great place for a lighting source. String up some lights, and you have the perfect backyard wedding atmosphere.
Dance Floor & Sound System
No party is complete without music and a dance floor. Don't skip on the sound system for your backyard wedding. A proper sound system is much different than the bluetooth speaker you got for Christmas. Make sure you provide a quality dance floor and music for your guests.
Tables & Chairs
Your vendors will need tables to set up on, and your guests will need somewhere to eat and rest from all the dancing they're doing. We have great options depending on your set-up.
Beverages & Food
With every wedding, you are going to need beverage and food options for your guests. With a backyard wedding, you have many choices! You can hire caterers like you would with a traditional wedding, you can rent the food service supplies and make the food yourself, or you can have a theme like a BBQ since, after all, it is in your backyard! Fire up the grill for a magical backyard wedding with great food that your guests won't forget.
Decor
There are no walls or ceilings to drape but there is the beauty of nature surrounding your big day. Consider your centerpieces, linens, and lighting because those are going to be the critical items to set the mood. Having a tent as mentioned earlier, can really expand your decor options.
These tips will help you be on your way to the most magical backyard wedding. Contact Your Event Party Rental today to see how we can help and to secure your wedding rentals!