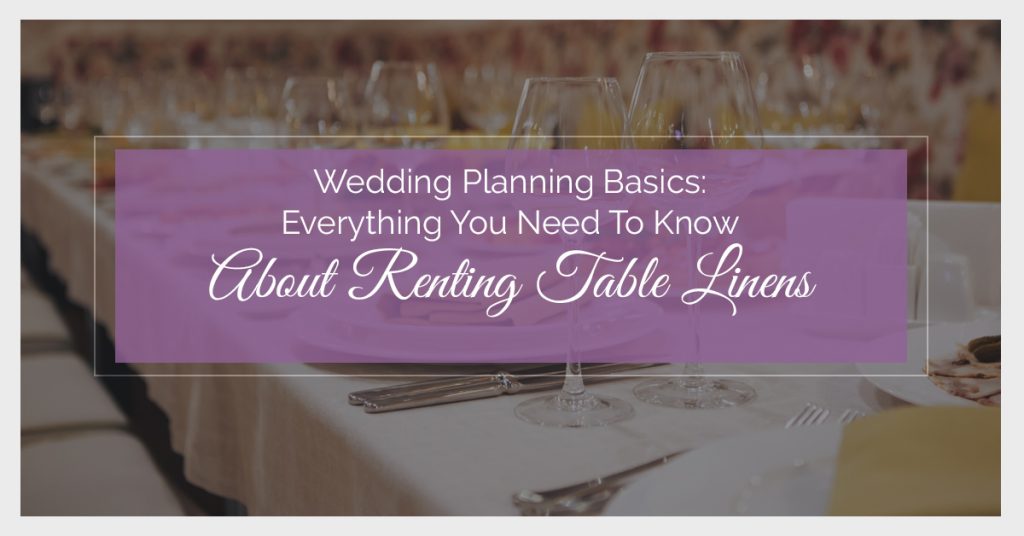 Welcome back to the Your Event Party Rental blog! If you are celebrating a big event or wedding planning, it's time to think about the items you wish to rent. Renting can not only save you considerable money — enhancing your wedding budget — but it is the most environmentally responsible option available for planning your ultimate party.
Your Event Party Rental is dedicated to pursuing greener options by offering our clients luxury rental options. Learn more about our rentals and keep reading to learn how to properly choose the table linens for your wedding.
3 Tips for Choosing Your Table Linen Rentals
If you've never helped plan a wedding or other large event, you may have no idea where to start. If you are feeling a little clueless or overwhelmed, today's blog is for you!
Choose Your Linens
One of the best places to start when you are considering linen rentals is to determine the linens you wish to have. Basic table linens include:
Tablecloths
Runners
Overlays
Drapes
Chair sashes
Cushions
Napkins

The type and amount of table linens you want will depend on your budget and the look of your wedding. However, usually we suggest, at the very least, renting tablecloths and napkins. Table runners can provide accent pieces for serving tables and cushions can make your guests' experience even more comfortable.
The best way to determine the linens you need is to know your list and seating arrangements and the number of all tables — dining, serving, cocktail, and others — that will need to be decorated.
Decide the Details
Once you've chosen your linens, you still have decisions ahead of you: next, you must determine the color of linens you will want as well as the designs, materials, and styles. Fabrics that you can choose from include:
Polyester
Satin
Cotton
Taffeta
Damask
Organza

You will also have decorative materials to choose from as well including lace, sequins, and tulle. These details can seem overwhelming — one more thing to add to your long list of things to do for your wedding. However, high-quality table linens together with other decorative elements can create a backdrop for your wedding and reception.
To understand all of your options and how you can achieve your vision within your budget, it is best to speak with a rental service representative. They can not only help you determine what table linens you need, but also which decorative elements can best accent your vision.

Find a Rental Service
The next step is to find a rental service. Some wedding venues may offer linen rentals and a table rental company may also provide the linens that fits each table. Most wedding rental companies offer full-service rentals, meaning they can provide everything you will need, such as the table and chairs, flatware, glassware, and tents. Working with a wedding rental company that can provide everything you need can save you significant time and stress, as you only have one point of contact for all of your rentals. This can also save you money on delivery and set up charges.
If you are looking for wedding rentals in the Plymouth, Ann Arbor, Novi, and Detroit areas, you can finally end your search here. Your Event Party Rentals is a full-service wedding rental company offering high-quality rentals that can help you create the event of your dreams. We offer table rentals, chair rentals, linen rentals, and more!
Check out our website to learn more about our environmentally friendly party rental options and start planning your wedding with us today!